Difficult Photo
8th February 2005 · Last updated: 5th October 2016

---
I've taken a series of photographs tonight, but I can't seem to get one of them to look right. The problem is that the foreground is bright enough, but the background is way too dark. The image also seem quite grainy, even though I took it in a bright room with flash. I've tried every image program I've got to adjust it, but with no luck. Ideally, I'd like to add a layer that brightens the dark area, then fades out before the bright area appears. I'm sure there's a way but I couldn't find it out. So I'm throwing the photo open to everyone. See what you can do with it to improve things. Then email me the results, saying what program you used, and how you came up with the final image. The best one I receive will get a permanent credit and link to your site (if you have one).
Here is a thumbnail leading to the photo, which was saved as a 100%-quality JPG to avoid any visible compression artifacts.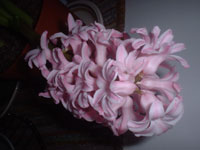 Update 23 March 2005: Congratulations to Stu Nicholls who submitted the winning entry below. Stu's entry was one of the first received, but the others were all good too. (It was hard to choose the best one.)

Stu used Photoshop Elements to process the image as follows:
Using the gradient edit tool 'soft light' Opacity 100% gradient left to right black/white. This retains the colours on the right hand side.
Comments (9)
Comments are locked on this topic. Thanks to everyone who posted a comment.