26th May 2001


Adobe have now released a cut-down version of Photoshop 6 known as Photoshop Elements. According to one review, it offers 80% of the full package, but for just 20% of the price! I just bought it for £69.99 in the UK, cheaper than Paint Shop Pro 7!

Photoshop Elements rocks - big time! It's packed with stunning features, ace filters and killer styles. These include shadows, bevels and other effects you can add to your image or text to gain instant professional results that are simply amazing. You don't get all of Photoshop 6, of course - things like CMYK support for printing have been removed. Even so, I'm continuously stunned by new things I keep finding it can do. And how!

I've started to create my own Portfolio made from Photoshop images - why not take a look?

27th June 2001
New Media Whore. Another site that you wish you'd found before.

31st May 2001
E-mail users warned over spy network (BBC News Online)

5th June 2001
Useless Fact Of The Day - can you resist?

7th June 2001
The quality of other weblogs continues to amaze me!








June 2001


I've decided to just put the month as the date for entries here - it's too much hard work figuring out the exact dates for everything, and I think it clutters up the layout. It also means I can add any truly hot new links straight away, without saving them until the ones dated earlier have been posted.

Japanese Engrish
I don't always check every single page on a site but this one had me gripped! Don't miss a page!

Brilliant!
Every now and then you come across a website of outstanding quality. It might be the sheer amount of content, it might be the great photography on view, or it might simply be the jaw-dropping, ass-kicking cool design. Gmunk fits into the latter category. That's one hell of a desktop!

Magnifying Glass
This is a novel idea seen on Jennifer Sterling's classy design site: a magnifying glass you can move around over the page. You'll need it too - some of the text is quite hard to read!

Windows XP Not Popular?
It seems from this story over at ZDNet that people won't be rushing to upgrade to Windows XP...

Surfstation
The favourite design portal Surfstation has been revamped.





June 2001
SITE OF THE MONTH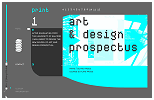 The site offers great photography of New York, printed and web artwork, plus more. Impressive.
ANOTHER GREAT SITE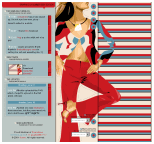 Considering the girl behind this is just 16, this is very professional. There's loads of great illustrative artwork and links to enjoy.

Portfolio
By contrast, have you checked out my own online Portfolio yet? The images are in no way as good as those on the sites above, but see what you think.